Enjoy Loads Of Benefit Offerings On Manup
...Tomiwa Oladipo Published October 2022
---
Are you a U.S. based oil and gas contractor? Would you like access to world-class benefit offerings? Who wouldn't? 😯 Then, this is for you.
Independent oil and gas producers account for 83 percent of America's oil production and 90 percent of its natural gas and natural gas liquids (NGL) production, but why should permanent employees enjoy unique benefits alone?
Our partnership with Catch has brought loads of benefits to your fingertips.
What's in it for you?
Access loads of world-class benefits, including:
Health Insurance
Dental Insurance
Retirement Investing
Tax withholding
Tax payments and much more!
"Our partnership with Catch aligns with our mission to help energy workers access world-class benefits and take more money home," said Dimeji Bassir, Manup's president. "We believe anything we can do to make our contractors' lives easier will help them holistically. Catch is a benefits portal that will provide independent contractors on our platform with a one-stop shop for health insurance, dental insurance, retirement investing, tax withholding, and tax payments — with everything in one place," Bassir added.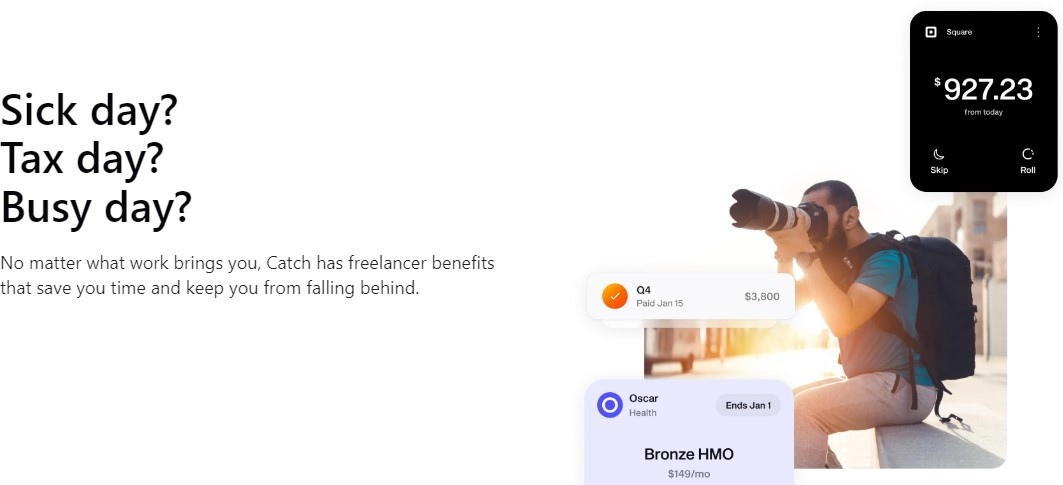 "The partnership with Manup is exciting for Catch as it represents another industry of the American workforce that Catch is supporting as we continue in our mission to recreate the financial safety net for all Americans without access to traditional-sponsored benefits," Kristen Anderson, CEO and co-founder of Catch.
"The partnership follows the announcement of the new Premium Slasher feature, which lowers individuals' insurance premiums via eligible government tax credits. This means that from day one, professionals in the Manup network can be sure they are paying the lowest possible price for their current coverage and will be able to confidently get the best possible coverage come Open Enrollment on November 1," Anderson said.
Manup's partnership with Catch empowers highly skilled professionals to stay laser-focused on powering the world without worrying about the complexity of securing their benefits and finances. Manup continues to support the thousands of professionals on Manup who proudly choose to be independent.
So, please get back to making money, not managing it.
Want to enjoy these benefits and more? Join Manup as a worker now!