As The Oil And Gas Industry Booms In Guyana, Where Will The Country Find Its Skilled Workers? - Manup

...Tomiwa Oladipo Published July 2022
---
Oil and Gas Jobs in Guyana
Some of the world's largest oil companies and investors have pitched their tents in Guyana due to its massive oil reservoirs, opening their doors to skilled energy workers.
The Cooperative Republic of Guyana, a tiny South American country with approximately 800,000 people, came into the spotlight in 2015 when ExxonMobil discovered prolific oil reservoirs in the Stabroek block.
Expectedly, this relatively nascent discovery has put the small country firmly on the map of Oil and Gas producing nations and is attracting a multitude of oil and gas operators interested in exploiting the country's hydrocarbon resources.
ExxonMobil, the leading oil exploration company in Guyana, recently made two more significant discoveries, Seabob-1 and Kiru-Kiru-1, the sixth and seventh in Guyana this year, with the total number of commercial hydrocarbon discoveries in Guyana at more than 25.
"ExxonMobil and its partners continue to accelerate exploration, development, and production activities for the benefit of all stakeholders, including the people of Guyana," said Liam Mallon, president of ExxonMobil Upstream Company.
But, as the oil and gas industry booms in Guyana, where will the country of approximately 300,000 labor force find its skilled workers?
"We are recruiting skilled Guyanese nationals and citizens (home and abroad) for several major oil and gas projects" - Manup.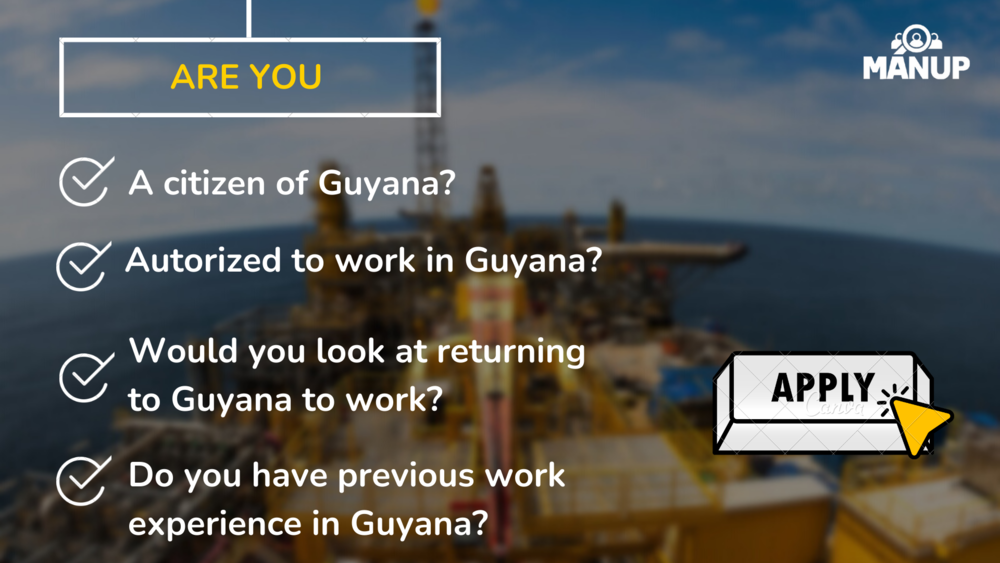 The Dawn of a New Era in Guyana
Following the discovery by ExxonMobil of prolific oil reservoirs on the country's coast in the Liza I field, a spate of follow-on discoveries in recent times brightens the prospect of Guyana becoming a significant oil producer and using its wealth to boost the economic development of the tiny South American nation.
Also, Rystad Energy research, independent energy research, and business intelligence company forecasts that 2022 is a turning point for the Guyana government to exploit the offshore field's vast reserves, with revenues more than doubling over 2021 levels.
Rystad's research also presents Guyana as the global leader in total offshore discoveries since 2015, with 11.2 billion barrels of oil equivalent, amounting to 18% of discovered resources and 32% of discovered oil.
More surprisingly, 9.6 billion barrels of the total discovery are oil, far outpacing the US in second place with a comparatively small 2.8 billion barrels.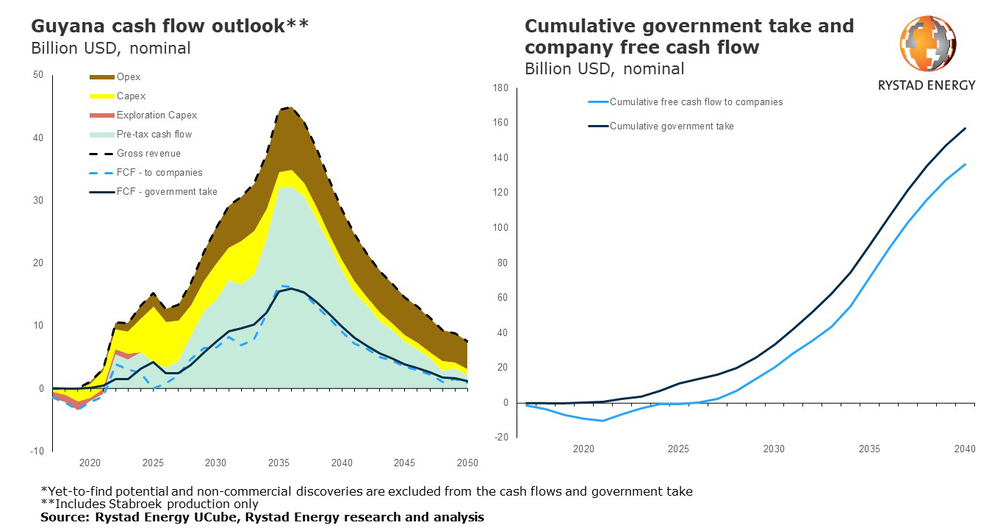 Also, Guyana's revenue from domestic production is on track to break the $1 billion mark this year and accelerate to $7.5 billion annually in 2030, according to Rystad Energy research.
ExxonMobil's 2022 investment plans include further exploration, drilling, and resource development in Guyana, which is already increasing production at an accelerated, industry-leading pace.
Recently, Hess Corporation announced sixth and seventh discoveries at the Kiru-Kiru-1 and Seabob-1 wells on the Stabroek Block offshore Guyana.
ExxonMobil's two floating production storage and offloading (FPSO) vessels operating offshore Guyana — Liza Unity and Liza Destiny — have exceeded their initial combined production target of 340,000 barrels of oil per day.
Likewise, two other projects are ongoing. Payara, expected to produce 220,000 barrels daily, will likely come online in 2023, while Yellowtail (the most extensive development to date) expected to produce 250,000 barrels daily, utilizing the ONE GUYANA FPSO expected to produce 250,000 barrels daily, will likely come online in 2025.
Also, experts forecast at least six FPSOs with a production capacity of over 1 million gross barrels of oil per day will be online on the Stabroek Block in 2027, with the potential for up to 10 FPSOs to develop gross discovered recoverable resources.
This places Guyana at number 3 in the world for floating production vessel deployments, alongside Angola and Australia.
Schreiner Parker, senior vice president and head of Latin America and the Caribbean at ExxonMobil, said, "Guyana is just starting to extract and monetize its vast resource wealth, and the coming years will be a financial windfall for the Georgetown government."
That's a lot of resources for a country with less than a million population. If properly managed, it'll leapfrog the country from being one of the poorest countries in America to an economic powerhouse in a few decades.
Guyana's Migration Trends Threaten Economic Development
Guyana's numerous oil resources could continue to fallow for a long time if there are not enough skilled personnel to explore them, leading to reduced productivity.
Guyana's current net migration rate in 2022 is -6.571 per 1000 population, a 4.2% decline from 2021.
Despite being a large recipient of remittances relative to GDP among the Caribbean and Latin American countries, Guyana's emigration rate remains one of the highest in the world, with over 55% of its citizens living abroad.
Besides, over 80% of Guyanese nationals with tertiary education have emigrated, depriving Guyana of skilled professionals, especially in the oil and gas sector.
And although the net migration rate is expected to decrease as more migrant workers flood the nation, emigration has severely undermined Guyana's economy for the past four decades.
The Guyana government needs to adopt new fiscal and migration policies to facilitate immigrants and reduce emigration to help the situation.
What Guyana's Oil Boom Means for Guyanese Oil and Gas Workers
Guyana has vast untapped resources, potentially giving room for several oil and gas development projects. This opens massive employment opportunities for Guyanese citizens in the oil and gas sector.
Plus, a wide variety of job openings means limitless opportunities to gain experience and enjoy sustained employment working with some of the world's best oil and gas companies. Also, many oil and gas companies are training, retraining, and upskilling their workers, giving room for career development.
How to Apply for Guyana Oil and Gas Jobs
If you are resident in Guyana or have Guyanese citizenship and are open to opportunities back home, sign up on Manup now!
Manup is a marketplace that facilitates companies' and personnel' seamless and direct connection. We are the platform that connects clients (who post projects) with personnel (who are looking for projects to work on).
Our robust algorithm will match you to the Guyana oil company vacancy based on your location, skills, and availability. Join Manup as a skilled worker to enjoy the benefits available to manupers.

Do you need oil and gas skilled workers for a project in Guyana? Let us take care of your staffing while you get busy at what you do best. Hire skilled workers from Manup now.
FAQs
Are there jobs in Guyana for foreigners?
Yes. Due to the ongoing discovery of humongous oil reserves, Guyana is now a destination of choice for many of the world's largest oil and gas producing and services companies. What does this mean for a skilled worker? Plenty of opportunities with few people to fill them up.
If you have a Guyanese passport, are open to working in the burgeoning oil industry in Guyana, and are highly skilled at what you do, sign up on Manup now. Manup algorithms will match you with current job openings that fit your profile.
Are Guyana oil and gas projects offshore or onshore?
Manup does not determine the location of projects. Companies that post projects on the Manup platform specify the locations of their projects. Both onshore and offshore projects are available on the Manup platform.